Penrod's Guides Cast & Blast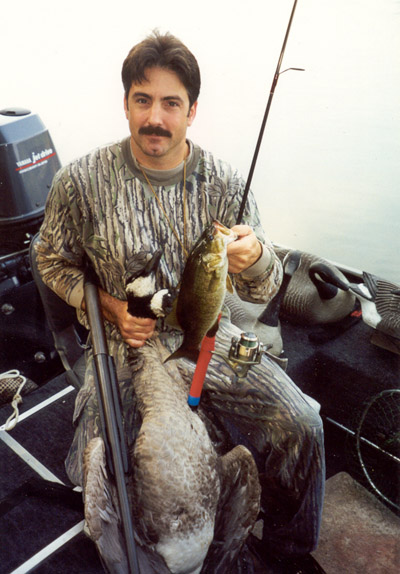 Have you ever shot a Canada goose and caught a quality smallmouth bass—in the same day? What are you waiting for? Call us now and book a date in September.
We launch a jet boat on the upper Potomac River—all dressed up in camouflage—before dawn. The boat has fishing rods, decoys, shotguns, boots, lunch, drinks and excited men aboard. It's September, Maryland's Resident Goose Season, and you are about to experience one fine outdoors event.
We will arrange our decoys, then tuck up against a bank or stand upon an island. You can hear the geese, at rest on the water, but anxious to fly. When it happens, it happens so excitingly. Sometimes you have a bass hooked—and you have to make decisions. In September, you can take five geese—but you must release the bass. That's my rule.
September isn't the only month—and we hunt ducks in the same manner. The season/seasons go into February. We book very quickly—so don't delay. Call 301-937-0010.
We also offer turkey hunts, archery and black powder for deer—but on a very select basis. Call for details and availability.
Fee is $450 plus expense. Contact Ken at 240-447-2206 or kenpenrod@comcast.net