Ken Penrod formed/founded Ken Penrod's Life Outdoors Unlimited in 1982.
This freshwater/brackish-water guide service grew quickly to be one of the largest and most-respected such groups in the USA.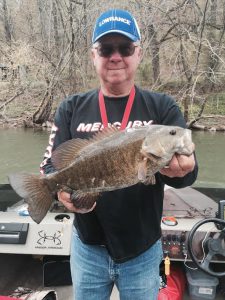 Along the way, Ken appeared in 11 made-for-TV fishing shows; was inducted into the "Freshwater Fishing Hall of Fame." authored six book and hundreds of articles. His service to the Maryland BASS Federation included: two terms as President; founded the award winning Youth Activities program; was named "Man of the Year," "Federation of the Year," five national Conservation Awards and 13 Region Conservation Awards, mostly for his work to protect the Potomac River.
Clients have included Presidents of the United State; Supreme Court Justice; two SecNavs; many congressmen; dignitaries from many foreign countries; Secretaries from several USA branches; various sports figures and the highest positions in our amazing military complex. I'm proud to have guided so many youngsters such as Leo, and the ladies that just bust-bass including Crit, Laura and "my model."
Without clients such as Doc, Coop, Lenny, John, Jon, Dave, Bill, Jay and so many more that account for thousands of pay-days, I may still be in construction.
Ken has appeared as a feature speaker at virtually every outdoor show in the region.
Ken's wife Maggie plays a major role in the Penrod ventures that include Camp Sycamore (Ken's summer youth camp), PPC Publications, Ken Penrod's Seminar Series and Lou Magazine.
Ken specializes on various waters in the region including the Tidal Potomac River, Upper Potomac River, Juniata & Susquehanna Rivers of PA and most of the tidal rivers of Maryland's Eastern Shore.
Ken's current sponsors include: RiverPro Boats; Mercury Motors; Lowrance Electronics; Ardent Rods & Reels; Power Pole; Sunline; Big Mouth Lure Company; Case Plastics; Zipper Worms; Under Armour; NRA; Mizmo; Campground Specials; Riverfront Campground; Columbia Design & Graphics.