Ken Penrod formed/founded Ken Penrod's Life Outdoors Unlimited in 1982.
This freshwater/brackish-water guide service grew quickly to be one of the largest and most-respected such groups in the USA.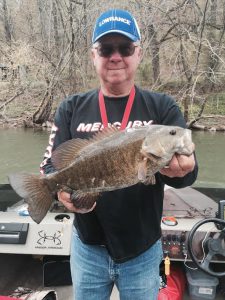 Along the way, Ken appeared in 11 made-for-TV fishing shows; was inducted into the "Freshwater Fishing Hall of Fame." authored six book and hundreds of articles. His service to the Maryland BASS Federation included: two terms as President; founded the award winning Youth Activities program; was named "Man of the Year," "Federation of the Year," five national Conservation Awards and 13 Region Conservation Awards, mostly for his work to protect the Potomac River.
Clients have included Presidents of the United State; Supreme Court Justice; two SecNavs; many congressmen; dignitaries from many foreign countries; Secretaries from several USA branches; various sports figures and the highest positions in our amazing military complex. I'm proud to have guided so many youngsters such as Leo, and the ladies that just bust-bass including Crit, Laura and "my model."
Without clients such as Doc, Coop, Lenny, John, Jon, Dave, Bill, Jay and so many more that account for thousands of pay-days, I may still be in construction.
Ken has appeared as a feature speaker at virtually every outdoor show in the region.
Ken's wife Maggie plays a major role in the Penrod ventures that include Camp Sycamore (Ken's summer youth camp), PPC Publications, Ken Penrod's Seminar Series and Lou Magazine.
Ken specializes on various waters in the region including the Tidal Potomac River, Upper Potomac River, Juniata & Susquehanna Rivers of PA and most of the tidal rivers of Maryland's Eastern Shore.
Ken's current sponsors include: RiverPro Boats; Mercury Motors; Lowrance Electronics; Ardent Rods & Reels; Power Pole; Sunline; Big Mouth Lure Company; Case Plastics; Zipper Worms; Under Armour; NRA; Mizmo; Campground Specials; Riverfront Campground; Columbia Design & Graphics.
Who is Ken Penrod?
Well, for openers, Ken is enshrined into the "Freshwater Fishing Hall of Fame, as a Legendary Guide." The only other Marylandl guide of this exclusive group is Lefty Kreh and he passed. That's "good company."
Ken is a Pennsylvania product, but as he likes to tell it: "I had to leave after a stint at Pitt–before I starved." Born in Portage, PA, to Kenneth & Arvilla, with "Bro" Bill and Sisters Joyce and June (deceased), Ken was always the "outdoorsman," founding the Portage Junior Sportsmen Club, and a two-time president of his high school Junior Sportsmen Club.
A 17 year career in the construction industry was just another "challenge" to Ken and he became a "foreman" at age 21, and a "superintendent" at 23, and a VP at 30 and an owner at 35. Along the way he won national awards for "Design Award of Excellence," and more.
Fast Forward to 1982: Ken formed a hunting and fishing guide service that is known as "Ken Penrod's Life Outdoors Unlimited,"
Meanwhile—he has been one of the most active businessman and conservationist in the region.
Two Terms as President of Maryland Bass Federation
Founder of National Award Winning "Youth Activities" Program
Founder of MBF Youth Mr. Bass & State Team
National BASS Federation "Man of the Year"
National BASS Federation "Federation of the Year"
Four (4) BASS National Awards for Conservation
Thirteen (13) Regional Conservation Awards
Always the Conservationist—and activist:
Izaak Walton League Chesapeake Bay Conservation Award
Member of HYDRAC Committee (Dept. of Commerce)
Past Committee Chair for TV-7 Capitol-City Fish Derby for inner city Kids
Past Chairman of "Congressional Fishing Tournaments (9)
Past National Member of "Black Bass Commission."
Past Member of Potomac River Fisheries Commission
Founder of Camp Sycamore, a youth fishing camp
Owner of PPC Publications. Producing books titled
Fishing the Upper Potomac River
Fishing the Tidal Potomac River
Fishing Lake Anna with Teddy Carr
Ken Penrod's Tidal Potomac River Fishing Bible
Pursuing River Smallmouth Bass
Member of Outdoor Writers of America since 1985
Hundreds of articles on fishing, hunting, youth activities, conservation and outdoors etiquette, noted especially for publications; "The Fishing Line," "Fisherman Magazine," BASS Times and more."
Writing awards from Fisherman Magazine and MDOWAA
Ken Penrod's Mid-Atlantic Fishing Reports
(Posted every Monday on Facebook Page: Ken Penrod's Life Outdoors Unlimited.)
Since 1982, Ken has written fishing reports on "waters we fish," between mid-March and end-October. This forum is a "classroom" of sorts where we can "guide" anglers to great "spots" and recommend the best fishing equipment to help our followers—and our sponsors. What other guide service or news media can say that?
Ken Penrod's Seminar Series
For 30+ years Ken has provided seminars at virtually every outdoor show of substance that are extremely well attended and advertised. The show season is highlighted by the 9-day "Great American Outdoor Show" by NRA at the Farm Show Complex in Harrisburg, PA. Ken and his guides are product-specific and season-driven.
Guide to Some Mighty Big People
President George Bush
Supreme Court Justice Sandra Day O'Conner
Speaker Dick Armey
Senator Kit Bond
General Schwartscoff
Admiral Ed Straw
SecNavs John Dalton and Gordon England
Various Secretaries of US Government
Expert on the Following Waters:
Susquehanna River
Juniata River
Tidal Potomac River
Upper Potomac River
Eastern Shore Rivers:
(Choptank, Nanticoke, Wicomico & Pocomoke)
Website
Facebook; Instagram; LinkedIn
kenpenrod@comcast.net
Cell @ 240-447-2206
Office @ 301-937-0010
Supporting Partners
RiverPro; Mercury; Lowrance Electronics; Ardent Outdoors; Patagonia; Yeti; NRA; Case Plastics; Zipper Worms; O-Wacky Tools; Guidefitter
Big Mouth Lures; Riverfront Campground; RAB Jig Heads; Campground Tubes;
Columbia Design & Graphics; Costa, Simms & Maggie Penrod
Founder/Owner
PPC Publications; LOU Magazine; Camp Sycamore; Life Outdoors Unlimited
Facebook Pages
Ken Penrod's Life Outdoors Unlimited; LOU Lo-Po Potomac Largemouth Club
Ken Penrod's 20-Inch Smallmouth Club; LOU Magazine;
Ken Penrod's Summer Youth Camp—Camp Sycamore (for boys 12-18, conducted from our lodge in Pennsylvania where the fishing and shooting arts are taught.)
CONSERVATION ACCOMPLISHMENTS
Ken Penrod's Contributions to the Potomac River Fishery.
1980-Present (2015)
Lost upon MD DNR's current regime are the accomplishment listed below that were fostered and in many cases unsupported by state officials during a time period of 35 years by Ken Penrod. Many "Fisheries" personnel have come and gone but Ken's work never faltered. It seems that the current management has adopted a "it's not my job" mentality when we bring concerns to them. The past leaders such as Bob Bachman, Torrey Brown, Leon Fewlas and others would ALWAYS champion our concerns, even when legislation was required. Today the tidal fisheries is more of a club than management arm—and we have lost our way. I represent thousands of anglers in this state and they depend on me to protect our fisheries..
Did lobby successfully to get a fisheries management program for District of Columbia.
Created a plan that involved a private contractor; VA Highway; MD Highway; State of MD; State of VA; District of Columbia to plan, design, supervise the installation of 9,000,000,000 pounds of bridge concrete in a small cove on the MD side just upriver from the Woodrow Wilson Bridge.
Pressed regional and federal governments to file a cease and desist order against WSSC for malfunctioning Blue Plains Wastewater treatment Plant that caused a 1.5 inch thick blue green algae bloom that covered the river as far south as Pohick Bay.
Was able to prove to MD DNR that bass were successfully spawning in the tidal Potomac River. The official DNR stance was 'black bass could not reproduce successfully in the polluted Potomac.
Did lobby successfully to obtain funding for tidal bass studies as well as necessary equipment and electro shocking studies for Leon Fewlass efforts.
Did participate and urge successfully for funding to monitor black bass movements in the tidal Potomac and upper Potomac.
Lobbied for many years to cite the Naval Surface Warefare Center in Indian Head, MD to stop polluting the Potomac and Mattawoman. They built a commercial wastewater treatment plant and then Captain Nicholson publically stated that "Ken Penrod forced the Navy Department to be a good neighbor."
Did bring substantial public pressure to get the US Navy to step-down from protesting expansion at Smallwood State Park.
Did bring pressure upon the Colonial Pipeline Company to pay for MBF tournament losses as a result of a very big pipeline spill.
Worked with Md DNR to create a "Trophy Water" on the upper Potomac River.
Worked with MD DNR to install catch and release during spawn on the upper Potomac River
Successfully lobbied to raise the minimum size on tidal water bass from 12" to 15" during spawn months.
Served on regional HYDRAC committee concerning submersed aquatic vegetation.
Chairman three years for TV-7 Fishing Derby to promote Potomac River.
Chairman 7 years for Congressional Fishing Tournament to seek support from congressmen for the Clean Waters Act.
Lobbied successfully to obtain fishing license reciprocity on tidal Potomac River.
Lobbied successfully to obtain a "Catch & Release Guide License" in MD. Virtually every guide in MD & VA that serve the Potomac was locked out otherwise.
Lobbied successfully to obtain commercial watermen ban for black bass possession and sales.
Lobbied at the risk of life to have certain commercial watermen face federal charges for the illegal selling of some 80,000 pounds of tidal Potomac bass. MD was willing to simply fine these men. The Lacey Act sent them to jail.
Led the way to eliminate puncturing culling devices from tournaments nationally.
National and Regional Conservation Awards
Over the years Ken's work was recognized by many on both a national and a regional level. The list of awards include:
Two term President of the Maryland BASS Federation
1985; National Bass Federation of the Year as President
1986: Federation of the Year
1985: National Federation Man of the Year
1990, 1999 & 2000 National BASS Conservation Awards
1992 through 2000: BASS Federation Eastern Divisional Conservation Awards
1988: Izaak Walton Chesapeake Bay Conservation Award.
Founder of Maryland BASS Federation, Award winning, Youth Activities Program
BASS national Youth Activities awards four years.
Ken Penrod's protection of, as well as promotion of the tidal Potomac River went far beyond his conservation efforts. There can be no man alive or dead that has done more. Examples include:
Authored two books about fishing the Tidal Potomac River.
Produced a video about how-to fish the tidal Potomac River.
Authored hundreds of published articles.
Responsible for 4 nationally viewed TV movies promoting the fishery.
MPTV with Sandra Day O'Conner, and (2) Interstate Commission on Potomac River Basin
Brought about substantial congressional interest in Potomac water quality.
Did escort a President and Supreme Court Justice on the tidal Potomac River.
Countless seminars and show appearances to promote protection of the tidal Potomac River