Captain Kenny Penrod was given a fishing rod shortly after exiting the womb and fishing has been his passion, his escape and his true love since that day. He cut his fishing teeth on Pennsylvania trout streams and Maryland ponds before being allowed to "captain" his own jon boat on the upper Potomac River shortly after he passed his dad's "captain test" of swimming the width of the Potomac River near Lander where the family owned a cabin.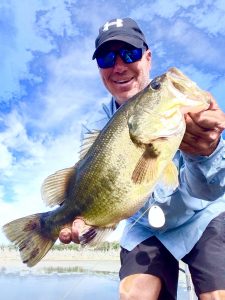 At age 11 he read his first issue of Bassmaster magazine, at age 16 he fished his first bass tournament, and by age 19 he was guiding for his dad's new business venture- Ken Penrod's Life Outdoors Unlimited.
Kenny was mentored by the very best fishermen in Maryland to include his dad and legendary smallmouth fishermen Butch Ward.
Kenny has fished the Potomac River all of his life and specializes in tidal bass fishing as well as river smallmouth. Kenny is also very involved in advocating for the health of the Potomac River and its fishery.
Captain Kenny Penrod attended and graduated from Montgomery College, University of Maryland University College, and Johns Hopkins University. He graduated first in his class from the Montgomery County Police Academy and went on to serve 27 years as a police officer where his assignments included being the supervisor of the Homicide, Internal Affairs, and Intelligence Units. Captain Kenny retired from the police department on August 1, 2015.
Kenny is a USCG Captain and licensed fishing guide in both Maryland and Pennsylvania. Kenny fishes out of a Ranger 520 bass boat powered by a Mercury 250 with dual Power Poles and latest in Lowrance electronics when pursuing tidal Potomac bass, snakeheads and stripers.
Kenny provides full and half day fishing trips on the Potomac River. Kenny also guides for smallmouth bass on the Potomac River and Susquehanna River. Captain
Kenny is proud of his affiliations with Sunline, Ardent Rod and Reels, Under Armour, Case Plastics, Power Pole, and Campground Specials. Captain Kenny and Sunline have joined forces to give back to our military veterans by providing a free half day guided fishing trip to our country's true heroes.
You do not have to be an experienced fisherman to enjoy your day with Kenny. Kenny is flexible, patient and loves to provide instruction to people of all experience levels.